Understanding camera settings, like we discussed in Digital Photography Tips Part 2, is fundimental. However, there are things out there that can enhance your images, and those are filters and software.
Using Filters
The photos taken with the iPhone/LenzOHousing and GoPro show that color filters are anotherway to improve underwater photos.
A filter adjusts warm orange colors to a photo and will help correctthe loss of those same color elements in underwater shots. Several of the cameras that we reviewed had underwater mode settings that accomplish a similar effect. Others require (will allow) attaching filters externally. Those can be attached or removed as needed.
Below are photos taken with and without snorkel depth filters. It should be noted that a challenge for filters are that they are"matched" to one particular situation. This can cause filters to makeinadequate corrections or add too much red into the photo and canmake white sand look red (and equally change the color of fish, coral,or other subjects).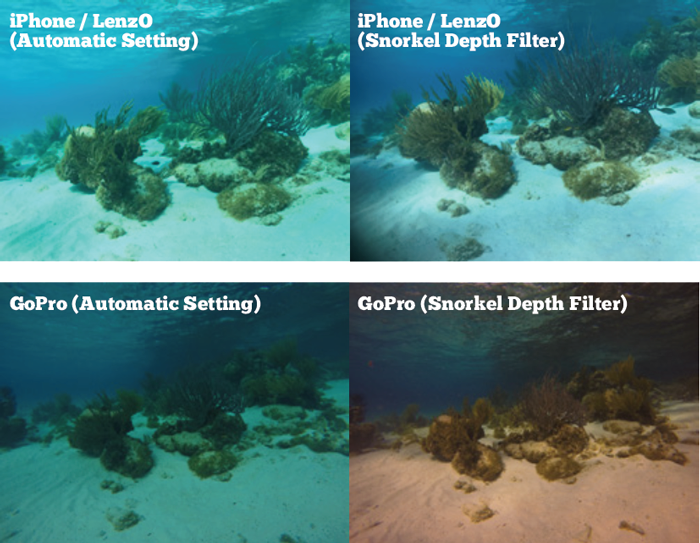 ---
Photo Editing Software
Many cameras can capture our vacation adventures on land and underwater. Photo improvement software improves most photos. Also, software can reduce or remove the overcast red color that filters can create.
Here are some photos that illustrate this software and the time it took per image to make these corrections.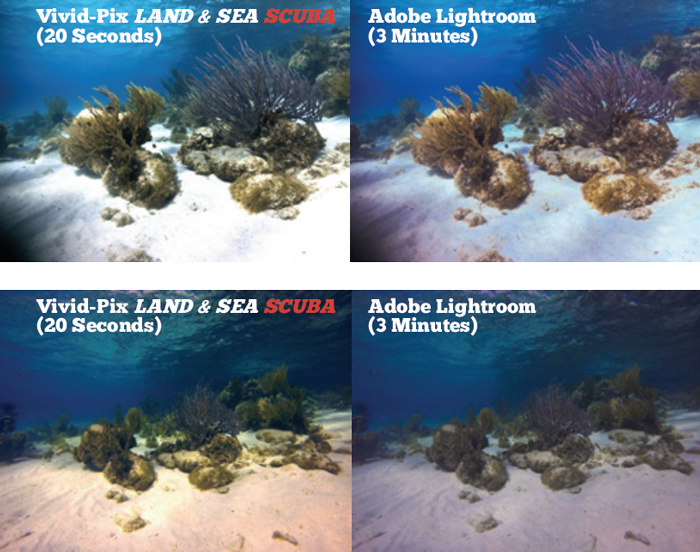 Once a photo is taken and downloaded from the camera, there are several photo editing programs available that will allow color correction, cropping and sizing. Most of these editing programs are primarily designed for editing photos shot on the surface, but one, Vivid-Pix LAND & SEA and LAND & SEA SCUBA, is specifically designed to fix photos taken in and under the water as well as those shot on land. If you are shooting a smart phone, photo editing apps, including Vivid-Pix,are available to edit directly in your device.
Vivid-Pix patented software is designed to quickly improveVivid-Pix patented software is designed to quickly improveunderwater photos. Other software provides underwater photoimprovement through a more manual process.
Below are a few images tha were captured in automatic, underwater mode or using filters, and then edited using Vivid-Pix LAND & SEA SCUBA software.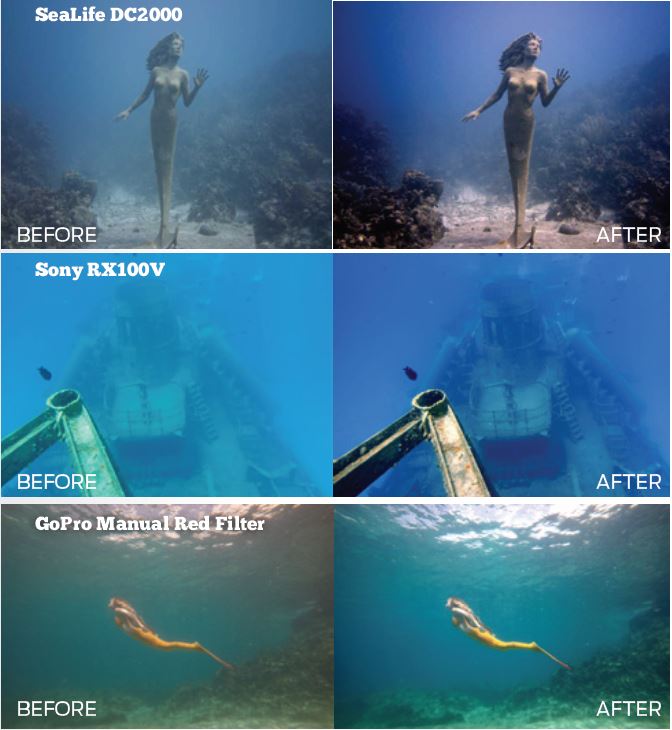 ---
For more information, view/download the complete Article CLICK HERE