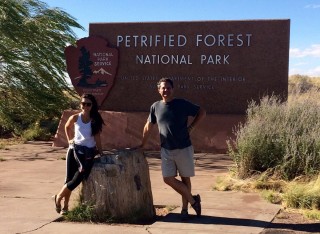 50 States!!
Day 26 – Antelope Canyon, Painted Desert, Petrified Forest National Park
A Sunbeam lights my Sunshine (corny but true) – Antelope Canyon is not a National Park, but was on Meg's bucket list – I think you'll see why when you look at the pics.
The day's next adventure was Painted Desert – includes Petrified Forest National Park – pretty cool – touching wood that has become rock and hills that take on a wide array of colors.
---
Day 27 – Roswell, NM, Carlsbad Caverns
50 States!