You traveled how far and spent how much on your vacation?
On location in Grand Cayman, we're creating a one-stop information source for cell phones through point and shoot cameras that have both topside and underwater photo capabilities.
Fortunately, the manufacturers were willing to help: Bing from Fujifilm, Marc from Nikon, Neal from Sony, Anthony from ValsTech (LenzO iPhone housing), Rebecca from Ricoh, Sven from Sealife, Jean from Ikelite (housings with Olympus and Canon cameras), and Howard from Fantasea (housings with Canon and Sony cameras), all said "we're in – I'll get you our latest and just released". Include GoPro, Sandy's Apple iPhone 7, my Samsung Galaxy 7 Edge with DryCase phone case (yeah, I know they say it's water resistant, but it's my smartphone!), and we've covered a majority of the inexpensive, moderately priced, easy-to-use snorkel and scuba picture-taking options available.
If you were keeping track of the odyssey / dream gear we just assembled, we had to build a spreadsheet to keep track of it all!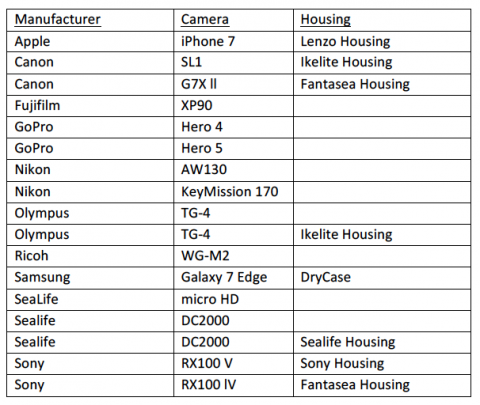 WOW! Thank You ALL!!!
Let's Take Some Pictures!
Have you ever had one of those epiphany moments – in the middle of the night – "yeah, we can do that!" Well, I'm paraphrasing Sandy walking up to me one morning at DEMA to say "I had this thought, went over to talk to Dave of Ultralight Control Systems and we just devised a way to build a tray, well really an apparatus, that can put all the cameras together and take the same picture from all of these cameras." Sandy, you're awesome what an amazing idea!
Frankenstein, you've got nothing on us!
Well, that pretty much brings us to the here and the now – looking forward to The Cayman Adventure!
It takes a village – or, a thousand points of light
Thank you for reading our story. Thank you also to the folks who are sharing this story with you!
Our goal is to share – in a completely unbiased way – how to take and improve your photos
The best camera is the one that you have with you
There are cameras to improve the photos you take
There is software to improve the processing of your photos
How it started…
Sandy Sondrol and I (Rick Voight) were chatting one day about Sandy's plan to head down to Grand Cayman to take photos with cell phones and video cameras. He wanted to add these training classes to help students improve their picture-taking with all types of cameras; adding to his courses that include SLR, Mirrorless, and Point & Shoot cameras.
Vivid-Pix had just launched our iPhone app, about to launch LAND & SEA and LAND & SEA+ Mac and Windows software, and planning a Kickstarter for Video-Fix, so the creative juices started… Let's go!
We looked at the Digital Imaging Reporter July Adventure Camera issue to see if we might expand on that terrific article and provide a one-stop guide for snorkelers and scuba divers; from cell phones through point and shoot cameras. In addition, The Imaging Alliance wants to provide information that helps consumers and retailers with all things imaging. So we set out to create something really substantial and helpful for underwater photo.